Micah John Hollingsworth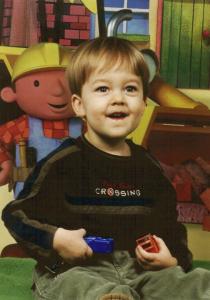 Well, our little bundle of joy has finally arrived. Micah ("one who resembles God") John (my Dad, "God's grace") Hollingsworth was born at 4:51 am on Thursday, 27 Jan 2000. At 9 lbs, 4.8 oz and 22.5" long, he's definitely a Hollingsworth. He's got plenty of brown hair (go figure) and blue eyes. He was quite happy where he was, so after 22 hours at the hospital (St. Elizabeth) attempting to induce labor, they finally had to take him by C-section. We finally came home Sunday after Stacy had recovered from the surgery. Both Stacy & Micah are doing fine.
This was Stacy's parents' 10th grandchild, but my parents' first. Needless to say, they all spent quite a bit of time with us at the hospital. My dad seemed especially proud.
He seemed to recognize his dad's voice right away, and was especially attached to me at first because I spent his first half hour with him while Stacy was getting stitched up.
I read him his first story later that day: Sheep in a Jeep. One of his first gifts (from Jim & Michelle Davis) was a little Hot Wheels TJ that you could disassemble & put on all kinds of beefier off-road parts like larger tires & a V8. I think I'll have to break that one in for him. :-)
At the hospital (27-31 Jan 2000):
Minutes old Minutes old (dressed) 1 day old Going home (4 days old)
A frame grab from video shot 30 Apr 2000.
David Rush took some photos at the Flatlanders Jeep Club Father's Day Cookout on 18 June 2000. This was Micah's first 4-wheeling adventure. He slept through it.
Before the club meeting
In the club meeting
On his first 4-wheeling ride
At the cookout
Still at the cookout
Micah won Daddy a toolbox for being the youngest child in attendance (yes, it's an M-725)
Micah and his Grandpa Sir, early Sept 2000.
Proofs from Micah's 1-year-old birthday shoot at Sears (4 Feb 2001):
Sitting Standing 1 Standing 2 Tigger 1 Tigger 2 Tub 1 Tub 2
One more photo from February, and four more from April 2001 (15 months old):
Uncle Mikey? Shazam 1 Shazam 2 Drawer
Enjoying the Flatlanders 4x4 Fest on 5 May 2001, and at Great-Grandma's on Father's Day, 17 June 2001.
With the Davis' girls Rachel and Jade at the Nebraska National Forest near Halsey, NE, over Labor Day 2001. Playing in the yard and on his turtle with his "Jeeps," September 2001.
We've got a new digital camera! Here's some shots from late December 2001: Micah & Grandma Holli, Uncle Mikey, Cousin Haddy, and Micah playing John Madden Football, and more football.
Being like Dad in the hospital after Noelle was born, 11 Jan 2002.
Holding "Baby Elle" 21 Jan 2002. Modeling his Elmo slippers and a new hat later that same evening.
His 2nd birthday party was a Woody (from Toy Story) theme. Uncle Casey holds Sheriff Woody -- or is it Minnie Pearl? Micah models his new hat.
Micah loves to bounce on Tigger. He's also recently discovered that he loves to draw, whether it's by himself, with Grandpa, or with uncle Casey. (Feb 2002)
Annual photos with Noelle (27 Feb 2002): Alone 1, Alone 2, Together 1, Together 2
Easter Sunday at Popsi and Great-Grandma's house (30 Mar 2002):
Watching basketball with Uncle Casey
Feeding Thor (Daddy's horse) a carrot
Hunting Easter eggs with Uncle Casey
More eggs
Checking with his caddy
Opening eggs with Uncle Casey
Daddy, Micah, and Uncle Casey went to the Strategic Air Command museum to see their robotics exibit. (13 Apr 2002)
Micah joined Daddy and Mommy at the Flatlanders 4x4 Fest again on 4 May 2002. He enjoyed it a lot more than last year, probably because he was nearly twice as old. Lots of bouncing and looking at colorful Jeeps!
Micah loves Mommy and Baby Elle! (10 May 2002)
Micah loves to play with his little sister Noelle, especially when she's lying on the floor. Photo1 Photo2 (19 May 2002)
Daddy's cousin Andrea and Dion, their kids Nickolas and Grace, and their nephew Matt came from Colorado Springs over Memorial Day weekend to celebrate Great-Grandma's, Andrea's, and Grace's birthdays. Micah's becoming more adverturesome. He rode the tractor (while running!) off into the sunset with "Kahpa" Holli for the first time, and loved jumping on the trampoline with Nick and Matt.
Group photo Tramp 1 Tramp 2
Micah concentrates on levitating using The Force (of gravity) while Nick and Matt gaze in awe.
(26 May 2002)
We all sat out on the curb and watched the AmeriCruise parade go by our house. Micah enjoyed watching the cars and playing with Mommy.
(28 Jun 2002)
Micah enjoyed playing with the Schwaniger boys (Alex, Tanner, Preston, and Hunter) out at their farm.
Photo 1 Photo 2 Photo 3 Photo 4 Photo 5
(30 Jun 2002)
(Sorry about the gap. Maybe I'll fill it in eventually.)
Micah had fun at Hunter Grandma's on Thanksgiving Day (28 Nov 2002):
Playing Basketball (My, that's high) and at the park nearby
Micah made his first snowman in our yard with Daddy on 19 Jan 2003:
"Daddy Snowman" Micah helping "Sissy Snowman"
We visited Omaha's Henry Doorly Zoo on 26 Jun 2003.
Back to Daddy's Page
---
last updated 27 Jun 2003 Obi-Wan (obiwan@jedi.com)