Noelle Anne Hollingsworth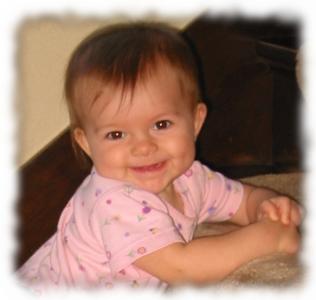 We've had so much fun with our first child, Micah, that we just had to try it again. Our daughter Noelle ("praise to God") Anne ("full of grace", Stacy & her mom's middle name) was born 9 Jan 2002 at 7:46am. She weighed 8 lbs, 13 oz, and was 21.5" long. That's 1" shorter and half a pound lighter than her big brother was. Both of them came C-section, but Noelle's was much more pleasant because it was scheduled ahead of time and wasn't preceded by all those pesky labor pains. She's a little gorilla, with dark brown hair covering not only her head, but also her shoulders, back, and legs. We're hoping most of it will fall out before she wants to start dating. :-) She's got dark brown eyes as best we can tell -- she's slept almost non-stop as I write this 16 hours after her birth.
Micah seems to have quickly made the switch from thinking as "Baby Elle" as another name for mommy's tummy to realizing that this new little baby is that same entity. He seems to really love her in their two brief meetings, frequently hugging and kissing her. We'll see if that's still the case when he realizes she's coming home with us to stay.
Here's a few photos taken on her first day out in the world:
Dad gives Mom her first look at her daughter
Noelle is somewhat miffed at Dad for pulling her out into this cold, bright world
All cleaned up, but still a little groggy
There, that's better
Mom finally gets to hold Noelle
Catching Z's under her name plate
10 Jan 2002 (day 2):
Snoozing with Dad
11 Jan 2002 (day 3):
Sound asleep (see a theme here?)
Ready to go home
At home with Grandma & Grandpa
13 Jan 2002 (day 5):
Pretty in pink
Meeting Popsie (great-grandpa Holli)
16 Jan 2002:
A new outfit from grandma Holli
21 Jan 2002:
Big brother Micah holding her
3 Feb 2002:
Posing with Daddy, and again
Bored at Micah's 2nd birthday party, with Grandpa, Popsie, and Great-Grandma
7 & 9 Feb 2002:
The fashion queen models her new jeans and a new hat
19 Feb 2002:
A sweater from Uncle Andy & Aunt Jen
27 Feb 2002:
Annual photos with Micah: Alone 1, Alone 2, Together 1, Together 2
31 Mar 2002 (Easter):
Modeling the Easter dress made by Grandma, with Grandma and Great-Grandma
1 Apr 2002:
A dress from Uncle Toby and Aunt Erin
10 May 2002:
Standing up with Mommy and Micah.
19 May 2002:
Micah loves to play with his little sister, especially when she's lying on the floor. Photo1 Photo2
26 May 2002 (Memorial Day):
Daddy's cousin Andrea and Dion, their kids Nickolas and Grace, and their nephew Matt came from Colorado Springs to celebrate Great-Grandma's, Andrea's, and Grace's birthdays.
First Noelle and Grace, then all the present great-grandkids pose with Popsie and Great-Grandma.
Micah loves to lie next to Noelle.
17 Jun 2002:
Noelle has learned to roll over, and has become quite mobile.
Rolling 1 Rolling 2 Rolling 3 Rolling 4 She also likes her grandparents.
28 Jun 2002:
The AmeriCruise tour came to town, and we all sat on the curb and watched the cars go by. Noelle likes sitting up by herself and playing with Mommy and Daddy, but Grandma is more comfortable.
7 Oct 2002: (sorry for the gap)
We taste test everything these days.
She climbed the stairs for the first time today!
Posing before the climb.
Hey, Micah, what's up there?
I guess I'll go see...
Wow, that's a long way down!
Hunter Grandma acts as a safety net.
Finally, the summit!

11-12 Nov 2002:
Posing with Pooh near her 10-month birthday.
Trying to figure out Micah's shoe.
We visited Omaha's Henry Doorly Zoo on 26 Jun 2003.
Back to Daddy's Page
---
last updated 27 Jun 2003 Obi-Wan (obiwan@jedi.com)