History of 2250 S. 48th


The house where we've lived for the last 12 years was originally built in 1892. That appears to make it the oldest remaining house in our neighborhood. I finally decided to dig into a little of the history of the place, which I'll document here.
Ownership Timeline
The following list contains the residents of our house (2250 S. 48th) and our neighbors as documented by the Lincoln City Directories stored at the Bennet Martin Public Library. Print versions exist beginning in 1935; earlier versions are on microfilm. Photocopies of relevent directory pages from 1892,1935-1998 and 1918-1934 are available online.
1892: Our address was outside the city limits in 1892 and was therefore not listed. This directory only listed streets east to 45th (at 'O') or 31st (at 'A'). Our neighborhood was then part of the nearby villiage of Normal. A two-page ad (page 1 and page 2) exists on reel 2 of the 1892 directory extolling the virtues of a new housing community to be built up around Lincoln Normal University, which sat at 52nd and South where Madonna Rehabilitation Center now exists. Our house was likely one of the first to be built in this development. The list of directors for the Normal University Building Association included F.F. Roose, George H. Glade, and F.E. Newton, all of whom now have nearby streets named after them.
1893-1910: I've yet to search through these directories, but since our neighborhood was officially outside Lincoln in the villiage of "Normal," I'm unlikely to find any reference to our house. People who lived in Normal but worked in Lincoln sometimes appear in the name listing, but not in the address listing.
1902: At the height of his political career, William Jennings Bryan built his "Fairview" home a half mile north of here at 1644 S. 48th (now 50th and Sumner).
1911-1918: Our neighborhood was in the process of transitioning from the outlying villiage of "Normal" into Lincoln proper. Consequently, records in this time frame are pretty spotty, and I haven't been able to find any reference to our house.
1919: The public library has no city directory on file for 1919.
1920: The southern half of the 2200 block of S. 48th (between 2208 and 2310) is not listed in the 1920 directory, perhaps due to an administrative oversight when compiling the listings. E.G. Yates is listed as living at 248 S. 48th.
1921: Ernity G. Yates (elk) moved in and stayed through 1923. E.G. worked at Miller & Paine. Only 21 houses are listed on 48th St. between 'O' Street and Van Dorn (the southern city limit); eight of those (including ours) are between South and Glade streets. Rev. J.A. Leavitt ran the Society for the Friendless across the street at 2143 S. 48th in a house built in 1910.
1922: George L. Freeman, my great-grandfather, build a house just up the road at 940 S. 48th. His son Arthur would later build a house next door on 49th, where my mother would live most of her childhood.
1923: Joseph Bunell replaced B.S. Dunbar at 2244 S. 48th. The house was apparently demolished and the property merged with 2250 soon thereafter, as 2244 does not reappear in the city directory until 1971 (48 years later).
1924: Mrs. Stella L. Saunders moved in. She apparently either died or left Lincoln mid-1927, as both she and the Thompsons are listed in the 1927 directory. Stella is not listed in the Lincoln directory in 1928. She moved to this house from 501 S. 12th (SE corner of 12th & K), where she appears in the 1922 directory.
mid-1927: Frank C. & Elsie Thompson moved in. Frank's name disappeared from the directory after 1934, and from 1935-1970 only Elsie is listed. In 1928, they are listed as restauranteers, owning properties at 1141 Q (downtown) and 4734 St. Paul (Uni Place). Long-time residents of our neighborhood tell us that a single lady (Elsie) lived here alone for decades before the Lorenzens moved in, by which point the property had become an overgrown mess.
1971: Charles S. Roberts is listed as living here for just one year. Perhaps he was a relative of Elsie Thompson who fixed the place up to sell it. The square lot that 2250 had enjoyed for 48 years was once again split in half and a new house at 2244 was built. 2250's sewer line and a large, brick cistern still run under 2244's back yard.
1972: John E. (Jack) and Joann Lorenzen moved in. They lived there 25 years, raised a family, and eventually moved to a larger place to house all their grandkids who returned for the holidays. They put the house on the market in early 1997 and it sat vacant for over a year.
July 1998: Purchased by Ben & Stacy Hollingsworth for $85K. We are the current residents as of 2010.
The current residents of our block of 48th St. (according to the Lancaster County Assessor):
2204: Lucille M. Hille (built 1948, bought ??? long ago)
2222: Bill R. & Joann C. Olson (built 1918, bought 1992) (1924: Lee Schureman)
2238: Gary L. & Trina K. Butts (built 1918, bought 1980's) (1922: J.D. Woods)
2244: Suvad & Mejra Deronjic (built 1971, bought 2007) (1922: B.S. Dunbar, 1971: Allen D. Johnson)
2250: Ben & Stacy Hollingsworth (built 1892, bought 1998) (1921: Ernity G. Yates)
Here is a map of our neighborhood, also from the county assessor: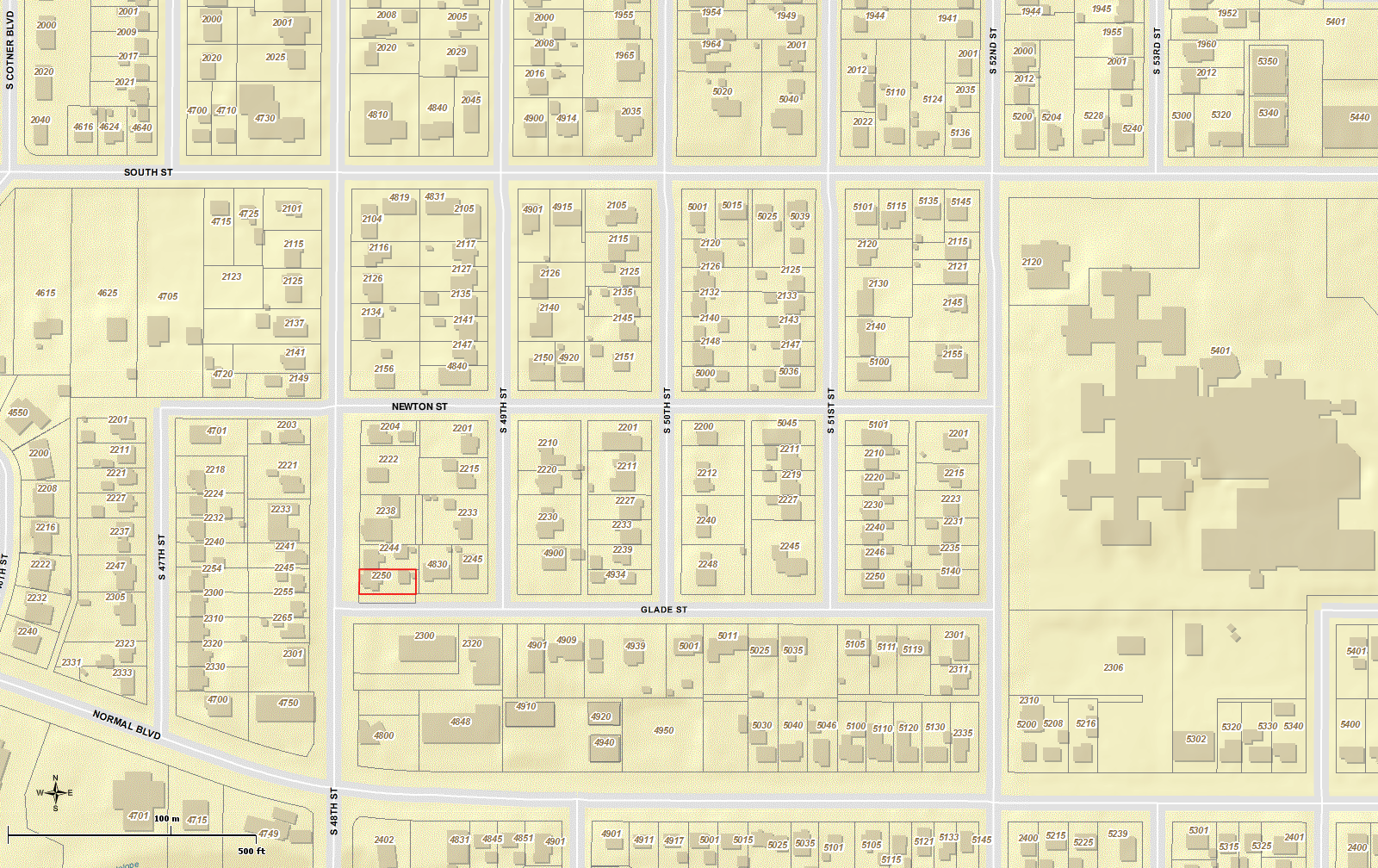 Back to Obi-Wan's home page
---
last updated 29 Dec 2010 Obi-Wan (obiwan@jedi.com)
Links on this page to Amazon are part of an affiliate program that helps keep Jedi.com operational. Thank you for your support!