Links to Other Jeep-Related Sites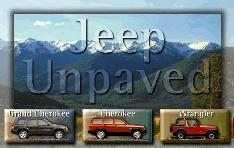 Check out the official Jeep Unpaved page!
Online Jeeper communities:
Cool personal pages of fellow Jeepers:
Club pages:
Miscellaneous Jeep or 4x4 related pages:
General mail order shops:
Product manufacturers:
Do you like this site?
Help me keep it going by throwing a few pennies my direction.
Back to Obi-Wan's Jeep page
---
last updated 16 Feb 2013 Obi-Wan (obiwan@jedi.com)
Links on this page to Amazon are part of an affiliate program that helps keep Jedi.com operational. Thank you for your support!