Tuttle Creek ORV Park
31 July 2004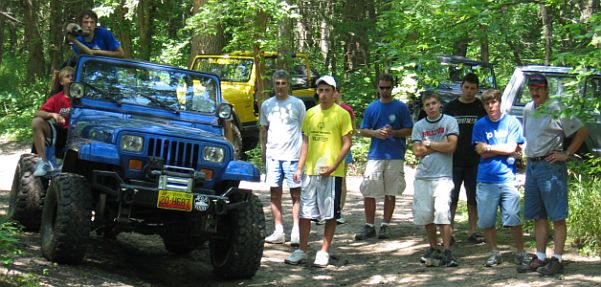 Ever since Justin Kalemkiarian left town for college, he and his dad had been trying to get together with me off-road, but it hadn't happened since February 2003. Way too long. Everything finally worked out for all of us, and we managed to get a decent little group together for a short, hot day of wheeling. Eight Jeeps got together at the usual haunt down in Kansas. This was the first time I'd wheeled some some of these folks, and the first time in quite a while with some others. It was warm, but dry and sunny -- an excellent maiden voyage for my "new" soft top.
The cast:
Kalemkiarians, Dickeys, Matt, and myself met in Lincoln and headed down together. We picked up Ethan, Jeremy, and Jesse in Beatrice on the way down (they live near Nebraska City). Mike lives near K.C., and met us in Randolph. We pulled into Randolph just after 10am, and immediately noticed that Jeremy's XJ was peeing on the gas station parking lot. Turns out his radiator hose was leaking. He managed to find a suitable replacement there at the gas station, and it worked fine the rest of the day. My engine had been running a little hot on the way down (my 4-cyl had to work hard to maintain 65 mph up those hills, and peaked at 210 degrees), but it cooled down as the load decreased, and it also worked fine all day, despite temps around 90F. I think my Warn 8274 winch blocks a little too much air flow through the grille. We managed to avoid any other mechanical hardships all day, which was unusual for this group.
Since this was the Dickeys' first time driving off-road, we started on the standard "easy" route along the north edge of the park toward the three lesser ledges.
After playing there briefly, we headed south to the major ledges, which is where Jeremy & Jesse caught up with us after repairing Jeremy's radiator hose. We played there for a little while. At one point, Jeremy felt a little too off-camber, so I got to add a little ballast by hanging off the side of his XJ while he made his descent.
We then made our way to Party Cove, where we stopped for lunch. Jeremy and I tested out our suspension flex, and Jeremy got to play ballast for Jesse, who took a less-than-optimal line down into Scrambler Creek and got his right rear tire a little airborne.
It turns out that my front suspension compression is limited by my shocks bottoming out, but the rest of my travel is limited only by the flexibility of my leaf springs. I suspect that, had I compressed the opposite wheels, my track bar would have limited the droop of my front right tire. By analyzing the head-on photo, it appears that my suspension travel is fairly even -- 14 degrees up front; 12 in the rear. A little math says that places the centerline of one tire 26.3" above the plane of the other three, which means that on a 20-degree RTI ramp, I'd ramp about 825 at street pressure, and more if you figure in tire squishing. I've always felt that once you get your suspension to where it'll ramp 800-ish, going farther won't do you any good in real life wheeling. If you still don't have enough traction, put your money into lockers or better tires. More flex will only make you more unstable on off-camber trails.
We ran down Scrambler Creek and back toward Party Cove, then made a short loop to the south, during which we descended a medium ledge that made things interesting for the shorter vehicles. The Kalemkiarians and Dickeys opted for the bypass.
We then spent some time on the Corkscrew / Driveshaft / Eagle's Nest bluff, including a new trail that's recently been created between Driveshaft and Eagle's Nest. It's similar to Eagle's Nest, but narrower and perhaps a bit steeper. Since all four of these trails meet at the same point at the top and there isn't much parking space, traffic can get a bit congested. Mike (the best-equipped Jeep in our group) tried to climb a tall ledge just above us, and had to be pulled over by Matt when he got stuck.
At the bottom of that bluff, we ran across Jim Cambron and friends in his Pinzgauer. It's an Austrian military transport that looks somewhat like a miniature Unimog, complete with portal axles.
Matt, the Kalemkiarians, and the Dickeys had to head home at 2pm for evening obligations, but the rest of us headed toward Rock Rash to watch Mike give it a shot, since his was the only Jeep in our group that even had a prayer of traversing that trail. The south entrance was flooded (Jeremy runs 32" TSL's), so Mike entered via the chicken exit while the rest of us parked at the top and walked down. The last 100 feet is the only interesting part of that trail, and it's quite a rock garden by Kansas standards. After an hour with Jeremy and I spotting and relocating enormous rocks, Mike finally had to call it quits and back out the way he came in. I believe he runs a 4" lift, 33" tires, and dual lockers, but it wasn't enough for today's version of this trail. Since most of the rocks on Rock Rash are loose, they get tumbled around every time somebody runs the trail, so the trail is different every time you see it. It makes things interesting, but I fear that in a couple years, the rocky portion will be much longer and not nearly as gnarly. There will, however, always be tall ledges at the very top of the gulch that will separate the men from the boys. Speaking of boys, that's my brother and son sitting on said ledges.
I guess my son Micah didn't get enough wheeling down in Kansas, because when we got home, he insisted that I get out his Power Wheels Jeep so he could drive and "fix" it just like Daddy does. (Let the record show that I'm not usually fixing my Jeep because it's broken -- I'm usually improving it to prevent breakage. I try to explain that to him, but the distinction is lost on a 4-yr-old.)
This was the first significant highway trip I'd made with my "new" old soft top. Prior to this, I'd only had a hard top. Compared to the hard top, the soft top is deafeningly loud. It's also hard to strike a balance between heat (in a black Jeep with no A/C) and wind. On the way back, we opted for wind and left both front windows down. We could still hear each other talk if we yelled. Having a 10 mph tail wind helped cut down on the noise somewhat. As uncomfortable as the soft top is, the convenience of being able to lower it at our destination and go wheeling topless on a sunny day is certainly worth it, IMHO. We were fortunate to be able to store my doors and windows in some of the roomier vehicles (thanks Brent & Jeremy), but I probably could have found a spot for them in my little YJ if I'd had to.
This was also the first voyage for my cheap little clinometer. It was mildly entertaining to know what angle you were at when things got interesting. However, the indicators are kind of small, and they bounce around a lot when the Jeep's bouncing, so it's hard to get an accurate reading. I noticed 30-degree pitch readings on several occasions (like descending the big ledges), but I was too worried about the trail to check any of the higher roll readings. The compass proved its worthlessness, once indicating we were heading due north when we were really pointed almost due south.
If you have a burning desire to print some of these images, or if you want to see some of the shots that I didn't think were worthy of this page, you'll probably want to grab the full-size versions from here. Be warned: most of them are roughly 1 MB in size.
Back to Obi-Wan's trip reports page
---
Last updated 3 Aug 2004 Obi-Wan (obiwan@jedi.com)
Links on this page to Amazon are part of an affiliate program that helps keep Jedi.com operational. Thank you for your support!