Third Day
with
Bebo Norman
and the
Paul Colman Trio

Omaha Civic Music Hall,
7 April 2002
My wife Stacy turned me on to the Christian rock group Third Day in early 2001. We made a road trip to see them at Stephens Auditorium in Ames, IA, during their Offerings tour in (we think) April 2001. Despite ordering our tickets the week before the show, we got front-row seats (they apparently saved those seats for last, because the entire front row had purchased them late). Being that close allowed us to talk with lead singer Mac a bit on stage and even catch the drumstick thrown out to the crowd after the show. All in all, a great time.
When we heard that Third Day was coming to Omaha, NE, on their Come Together tour, we just had to go. Our seats for the sold-out show in the Omaha Civic Music Hall were about 10 rows back (of 25) and a few seats over from the left wall. Not first row, but not bad. Although it was a good show, it was nowhere near as good as the one in Ames the previous year for several reasons. First, the acoustics in the Music Hall suck, so the lyrics were sometimes unintelligible. Second, the sound guy (calling him a sound technician would be a stretch) must have been asleep, because there were several brief moments of loud feedback, and many other times when he was sitting right on the edge and you could hear just enough of that characteristic screech to be annoying. The volume was also excessively loud much of the time, which could have been due to either or both of the aforementioned problems. It was bad enough that Stacy left the show with a bad headache. In Stephens (Ames), the orchestra pit was covered and seating was placed on top of it, allowing the front row audience to literally touch the stage without leaving the edge of their seats. Civic left the pit open, so the closest audience was "like 80 yards away from" the stage (according to Bebo Norman). It was actually more like 15 feet, but it was enough that the performers couldn't interact nearly as well with the audience, so it lost some of that personal touch. On the good side, the artists did seem to have fun with each other on stage more than they did in Ames. This was most evident during a rousing rendition of "On the Road Again," done in their best Willy Nelson voices.
Since they allow still photography in these shows, I took my new little digital camera and snapped a few shots. Our distance from the stage (50 feet) precluded using a flash, and the low light made for some blurry shots at times, but here's a few of the better shots. High-res (1600x1200) versions of these photos are available for anyone who wants them. There's even a few clips of very low-quality video, also taken on my digital camera, for those who want to wait for the downloads.
This was the view from our seats before the show started.
Paul Colman Trio
The Paul Colman Trio is a group from Australia. Third Day met them while on tour down there and invited them up to open for them. Yes, I know there's four of them on stage. The drummer lead singer, and bassist make up the trio. The electric guitarist hiding in the back is a friend of theirs that often follows them on tour.
Bebo Norman
A friend of ours from church is a personal friend of Bebo's, so when he came out to the foyer to sign autographs during intermission, we had to tell him hi. Bebo is definitely a very down-to-earth, "aw, shucks" kind of guy. He also tends to ramble on stage between songs, which makes for a funny show. He was joined on stage by the drummer & guitarists from the Paul Colman Trio for about half his act.
Third Day
Video Clips (320x200):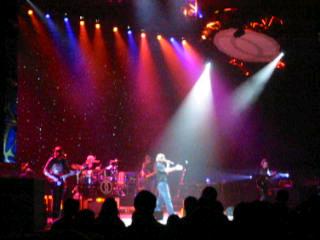 You're Everywhere (5 secs, 1.7 MB)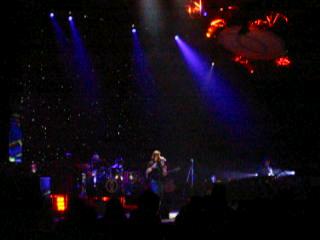 You're Everywhere (sing along) (10 secs, 2.4 MB)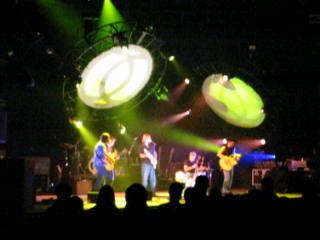 Unknown (11 secs, 3.2 MB)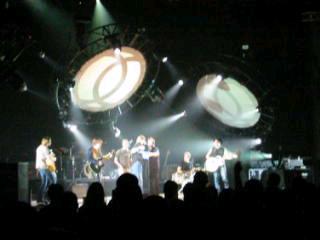 On the Road Again (Mac & Paul singing) (14 secs, 3.4 MB)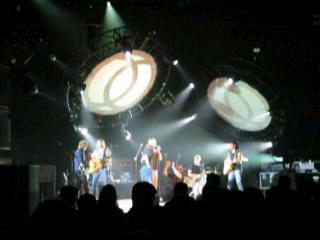 On the Road Again (Bebo singing) (7 secs, 1.6 MB)
---
last updated 8 Apr 2002 Obi-Wan (obiwan@jedi.com)
Links on this page to Amazon are part of an affiliate program that helps keep Jedi.com operational. Thank you for your support!