'87 Jeep Grand Wagoneer
Parts Truck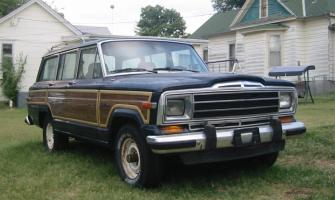 I've left this page online only for posterity.
The summer after buying my '78 Wagoneer parts truck from a local junk yard, another Jeeper about 4 hours away decided to get rid of an '87 Grand Wagoneer that he had bought at auction after it was abandoned. A friend of mine who happened to be in Omaha that week (Mo Cox) wanted the seats, and told me he'd buy the truck if I'd pay to haul away what was left. I could keep what was left after he took the seats & some misc trim pieces. I'd been wanting to install power door locks & windows in my '77 Wagoneer, so the thought of a "free" GW from which I could steal all the power accessories was appealing. All I had to do was pay to drag the thing to Lincoln & then get rid of it when I was done stripping it. At least that was the theory...
The most obvious drawback was that the GW had already had the front axle and springs removed, and it was sitting on blocks in Paul's (the seller) yard. This would make transporting it difficult. Fortunately, I was able to remove the front axle & springs from my '78 Wag, haul them down with us, and install them on the '87 GW for the trip home. The '78 was missing the tie rod (I bought it from a junk yard), so I had to make a tie rod from a wooden 1x2 and a couple 1/2" bolts. We still didn't have a drag link to attach it to the steering wheel, but at least both the wheels would stay parallel this way. We steered by wrestling the front wheels side-to-side by hand. It was good enough to get the GW home.
Mo was able to borrow a really nice pickup & 2-car gooseneck trailer with a winch from a friend of his in Omaha (thanks, Matt), so I didn't need to rent a tow dolly to bring the GW home. A gooseneck trailer that long is quite difficult to steer, since it has about a 200' turning radius. After almost taking out a lamp post at a gas station, we eventually got used to it.
Mo got to my house in Lincoln around 9am Wednesday, 27 Aug 2003. We installed the winch on the trailer, then headed to my grandparents farm to load the front axle from the '78 onto the trailer, almost taking out some of my grandma's bushes in the process. We finally hit the highway out of Lincoln around 10:30. We rolled into Paola, KS, about 2:15pm and eventually found Paul's house and the GW. The seats were in considerably worse shape than Paul had told Mo (worse than the seats Mo already had in his '91 GW), so Mo didn't want them. I figured the rest of the GW was worth $50 to me (plus $49 for a tank of gas in the pickup), so since we were already down there, I paid for the GW and we took it anyway. Paul helped us install the axle from my '78 (a straightforward process) and push the GW onto the trailer. The winch helped a lot once we got the GW lined up straight. We finally left Paola around 5:00pm -- much later than we'd originally hoped.
The trip home was uneventful. Maneuvering that big truck & trailer so we could unload the GW into my driveway required us to block traffic for about 10 minutes, but at 9pm on a side street, we only had to divert about 3 cars. Once we got it off the trailer, it took about 90 minutes to get the GW rolled into my garage (this included chaning a flat tire on the trailer that my wife discovered after we got home). Since my driveway has a slight incline before it levels out, we had to park my Wrangler at the top of the driveway and then use my come-along to winch the GW up onto the level area. Too bad the Warn 8274 I recently bought for my YJ wasn't hooked up yet. We eventually got the GW lined up and into my garage, and Mo was able to head back to Omaha at about 10:45pm -- nearly 14 hours after he arrived at my house. For Mo, this had become a 16 hour day to pick up a vehicle from which he'll probably only take two factory bumpers, a couple trim pieces, and a seat belt.
Now that it's in my garage, I plan on parting out the '87 GW as quickly as possible. I plan on keeping some stuff to use in my '77 Wag (like the power windows & locks, and possibly some of the interior parts). Most of the rest of it is available for sale. As I mentioned, this Jeep was abandoned without keys, so nobody I know has ever heard it run. Here's some of the main points:
360 V8. Looks stock. Distributor and power steering pump are missing, but otherwise the entire engine bay looks complete. Lots of oily crud caked on the lower parts. Impossible to tell what all was leaking to cause this.
Torqueflight 727 tranny is there, but the transfer case and front driveshaft are gone.
Dana 44 rear axle (3.31 gears) is there, but front is missing (the front D44 that we put under it to get it home belongs on my '78, and won't be available until I'm mostly done parting out that vehicle). The rear D44 is about 59" wide and has a 6x5.5" bolt pattern. The rear pinion is offset 3/16" to the right of center. Brakes are 11x2" drums. I can't get rid of the rear axle until after I've towed the empty shell off to the metal recycler.
The wheels are ugly steel (used to be white), but at least they all match. 15x7, approx 3-3/8" backspacing. Tires (235/75R15) are in pretty good shape. I can't get rid of the wheels until after I've towed the empty shell off to the metal recycler.
Body is in surprisingly good shape. The drivers door is dented badly, since it was swapped from Paul's daily driver before we got the Jeep. Front fenders have minor surface rust, but the rest of the body seems to be rust-free. The paint isn't great.
Tailgate is complete (including glass) but dented. I haven't seen the glass, but the dash board controls indicate that there is a rear defroster.
Most windows are good, but the front windshield is cracked.
Most of the exterior badges and lamp lenses are in good shape.
Frame has some minor rust next to the gas tank, which is the biggest problem area for '80's FSJ's. Not bad, though. The rest of the frame looks good, except for the front spring hangers, which were cut apart. Gas tank skid plate looks good.
Front grille has one plastic slat broken off, but looks pretty good. The chrome at the top center is a little dented. It may be able to be straightened, though.
It has a Draw-tite-style 2" receiver hitch (possibly factory) that has a good bit of rust on it, but should be usable.
I've posted a few photos (with tiny thumbnails) taken when Mo & I were bringing it home here. There are some more photos of various parts of the GW on the following pages. Beware: they're mixed in with other photos, some of different vehicles. Any filename beginning with "87gw_" is of this '87 Grand Wagoneer.
The following parts are gone or already spoken for:
Both front and rear bumpers
Headliner and related trim
Sun visors and related wiring
Dome lights and related wiring
All seat belts
Front power seat brackets and control panels (but not the seats themselves)
Power windows, door locks, and related wiring
Interior door panels, arm rests, and power lock/window controls
Weather seals between doors and body
Thin chrome trim around tailgate window
Window washer fluid tank and pump
Motorcraft distributor and ignition box
A/C compressor clutch/pulley
Power steering pump
Both door mirrors
Front axle, suspension, and steering linkage
Transfer case and both driveshafts
Both front fenders
I haven't put fixed prices on anything, so make me an offer if you want something. I'm not wild about shipping the large objects, so preference will be given to anybody that wants to come to Lincoln, NE, (68506) or meet me nearby. Buyer pays shipping or my gas costs if I deliver.
Email me (Ben Hollingsworth) at obiwan@jedi.com.
Got some parts of your own that you want to unload? Looking for something new? Join in the discussion at our Marketplace forum!
Back to Obi-Wan's Wagoneer page
---
last updated 14 Oct 2003 Obi-Wan (obiwan@jedi.com)
Links on this page to Amazon are part of an affiliate program that helps keep Jedi.com operational. Thank you for your support!