SOLD
T-38 Talon Plastic Model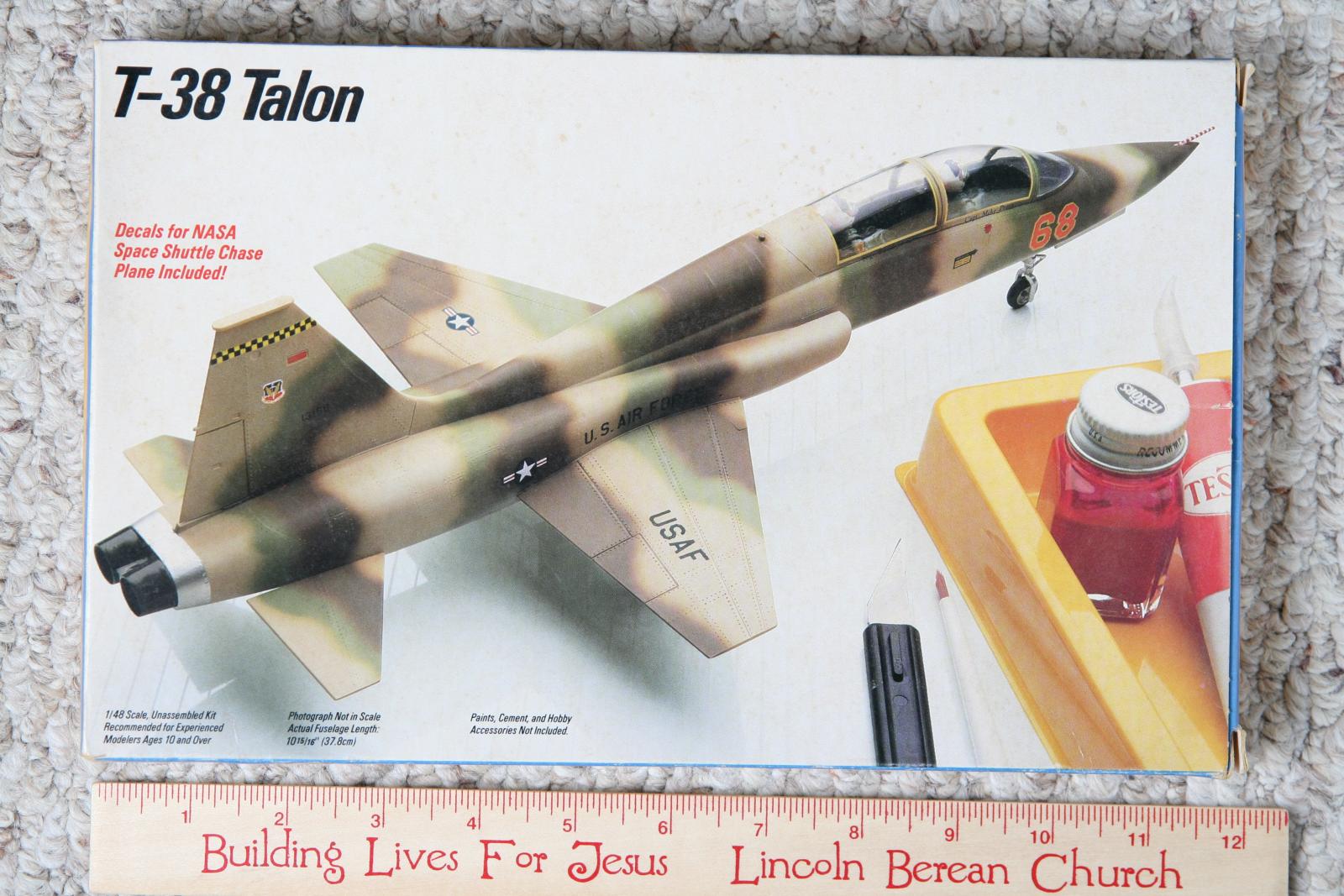 Northrop T-38 Talon jet plane
Testors 1/48 scale plastic model kit #331
Recommended for experienced modelers ages 10 and over
Box says copyright 1984

As Northrop developed the T-38 Talon in the mid-1950's, its objective was to build an aircraft that was light, responsive, easy to maintain, and above all -- inexpensive. At the same time, it also became apparent that the USAF needed a supersonic basic trainer and the T-38 fit the bill. Powered by twin GE J-85 turbojets, the T-38 is capable of speeds well over Mach 1.2. Shortly after it become operational, the aircraft set many time-to-climb records. In the years to follow, the T-38 became one of the USA's most successful trainers. More than 40,000 men were taught to fly supersonic aircraft behind the controls of the Talon. The prestigious USAF Thunderbirds aerobatic team flew T-38's, and they also have been used by NASA as "astronaut proficiency trainers." In order to rid themselves of pre-space flight jitters, astronauts "exercise" in T-38's. It has an excellent safety record, and has fulfilled and exceeded all design goals.
Model is unassembled, unpainted, and verified to be complete. Box has been opened but is in good shape. Instructions and decals are included. Virtually all plastic parts are still attached to their trees. The only apparent flaw is that the clear plastic cockpit cover is cracked. Model is sold as-is; no refunds.
I bought this kit new as a youngster, but lost interest before I got around to assembling it. I'm finally cleaning house.
Photos
Back to Obi-Wan's model page
---
last updated 20 Jan 2010 Obi-Wan (obiwan@jedi.com)