In early August 1996, I was sent to a conference in Denver. Of course, living in Lincoln, Nebraska, I would have been stupid to go that close to the mountains without taking my Jeep. In the preceeding weeks, I managed to meet several people on the rec.autos.makers.jeep+willys newsgroup that offered to show me around their favorite trails. Don't you just love the Internet?
The first outing came on Sunday, 4 Aug 96, with Kelly Alexander, his wife Kelly, and my cousin Thom. We left Colorado Springs around 10am (2.5 hours after I rolled into town) and headed west past Woodland Park toward the Hackett Gulch area.
These were fairly technical trails, especially for my first time out, but were great fun. We took the Hackett Gulch and Longwater trails, both of which empty into the Platte River. Although we never had to use Kelly's winch, I did have to make several runs at a number of the trail sections. The pictures I have (not yet posted here) are all duplicates that Kelly took. I had brought my parents' $200 camera along, but left it sitting on my front bumper when we stopped for lunch. Major bummer. I had to replace it the next day.
The second outing came the following Saturday, 10 Aug 96, with Joel Riedesel and his fiance Robin. We left their home in Bailey (about 40 miles SW of Denver) around noon. We headed for the Slaughterhouse Gulch area, just 5 minutes from their house, which was convenient. Today's trails were less difficult than those at Hackett Gulch, and the afternoon was more exploring and sightseeing. We did have to winch me up one section of trail, however. Better axle articulation, no sway bar, locking differentials, or any combination of the above would have helped greatly on both outings.
One of the trails we followed dead-ended at the top of a hill around 9700′ elevation. We stopped to rest & shoot the following pictures:
Some miscellaneous shots from some of the trails:
I got stuck in the loose dirt & deep, diagonal ruts on this trail, and Joel had to winch me out:
My baby the next morning (I was finishing this roll of film):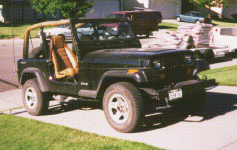 The third outing was scheduled for Sunday, 11 Aug 96, with John Biesendorfer of Denver. Unfortunately, the previous week had been less than kind to John, so we had to cancel. Maybe we'll hook up again next time I'm out there. I ended up spending the day cruising the mountain highways between Broomfield, Central City, and Boulder with my cousin Andi, which was great fun and quite relaxing. (no photo yet)
Do you like this site?
Help me keep it going by throwing a few pennies my direction.





Links on this page to Amazon are part of an affiliate program that helps keep Jedi.com operational.
Thank you for your support!