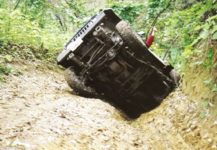 I think the first time I heard about Timber Ridge was the day I met Jim Davis. This 2500-acre private wheeling park near Castana, IA, requires a $450 annual membership fee, which effectively limits its use to those who can attend frequently enough to make the high cost worth while. Jim was somewhat new to the Jeep experience at the time, and was in the early stages of founding the Just Jeeps of Omaha club. Unaware of the free (albeit more distant) wheeling available down in Kansas, he had signed up at Timber Ridge for a year. As the club matured and made monthly trips to Kansas, nobody in JJoO really talked much about Timber Ridge. Of course, after several years of mostly attending the same place, we grew bored. When we heard that the Central Iowa 4-Wheelers were holding their 3rd annual Timber Ridge Run, we decided to attend for a little change of scenery. The $75 registration fee got you unrestricted access to the park for a weekend (including free camping), a T-shirt, and a raffle ticket.
To avoid the rowdiness that often occurs in on-site campgrounds at events like this, we opted to stay at the Lewis and Clark State Park four miles west of Onawa (23 miles from Timber Ridge). The campground was clean, quiet and well-appointed, unlike the parking lot at Timber Ridge. It also cost $13/night.
We got in late Friday night. Although Timber Ridge opened to us at 7:30pm for possible night runs, we opted to crash at the campground and get an early start the next day. We awoke the next day to rain. The Timber Ridge owner won't let you wheel if the trails are too sloppy, so we all stood around at the park's staging area waiting to see if it would let up. It eventually did, and we made it onto the trails by early afternoon.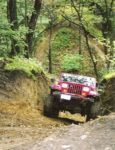 Timber Ridge has different terrain than we've gotten used to in Kansas. Most notably, there's not a rock in site. All the trails are steep, dirt trails through heavily wooded areas. Many parts are so narrow that full-size pickups simply won't fit between the tree trunks. Some of the trails are dug out of the ground with significant (2-4′) walls up either side. There are plenty of off-camber sections that make avoiding the trees that much more difficult. With a little bit of rain like we had that weekend, mud tires come in very handy. With all the crevices to straddle and opportunities to cross up your axles, a rear locker, or at least an LSD, would also come in handy.
I counted about 60 people at the Saturday night raffle, and each vehicle averaged about 2 people each. Here are the people that went up in our group, all of whom probably appear in at least one photo:
Tim Lange, his wife and two kids in a blue Cherokee with a mild lift and 31″ AT's, locked front and rear
Jim and Michelle Davis with Jade and Rachel in a red '95 YJ with 5″ of lift and 33×12.50 Swamper SSR's, locked rear
John and Robin Frost in a brown '87 YJ with 5.5″ SOA lift, 33″ Swamper Thornbirds, locked front and rear
Troy Gubser with his dad Bob and friend Jason (who usually road with Obi-Wan) in a grey (and eventually blue) '78 F-250 with the stock Hi-Boy suspension, 33×10″ tires, and open diffs
Scott and Kashmir Willenborg in their black TJ with 3.5″ (or so) lift, 33×10.50 BFG AT's and open diffs
Me, Obi-Wan, in my black and tan '95 YJ with 6″ SOA lift, 33×9.50 BFG MT's, and open diffs
There were no organized runs, so Tim Lange and Jim Davis, both of whom had been to Timber Ridge semi-recently, led us around most of the time. The time we did get lost, we just headed north and eventually ended up at the staging area.
Early on Saturday, we ran into a group of CJs that were climbing some steep runs up a short hill. One got a little off-camber in a rut and ended up laying on his side against the trail wall with one tire high in the air.
We eventually found our way to The Steps, three tracks that run up/down a 100′ climb in a series four steep/level step sections. They look intimidating at first, but are actually quite fun and pose no real danger of rolling as long as the ground is somewhat dry. Jim's girls (Jade and Rachel) found The Steps more entertaining than a roller coaster. The steep sections are steep enough that when dropping down over the edge, my rear wheels briefly went airborne. The Steps were probably Troy's favorite place to play, and his Ford's long wheelbase and good tires really shone here. He even backed uphill with no troubles.
While we were playing on the steps, Tim Lange discovered a leak in his power steering hose, and half our group decided to head back to town in search of a replacement. Troy and I stayed behind to explore a side trail we'd seen (dubbed "Whee Hill" by Troy), and agreed to meet the others back at the staging area that evening for the raffle. After winding through some very narrow trails, Troy tried to climb a steep V-shaped wedge and managed to blow a bead on a root. We got that re-seated with my York air compressor and Troy eventually made it up the hill will plenty of horsepower and hole-digging. Those holes proved to be my undoing when I tried to follow him. I was unable to keep both tires up out of the trough, and whenever one tire would slip down, it would eventually hit one of Troy's holes and prevent forward progress. My attempts to climb out of there got my front right tire climbing to the top of the trail's wall while my back right tire fell into the trench. On a steep hill like that, my front left tire reached for the sky and nearly flipped me backward. Troy tried to strap me to the top of the hill, but our combined tow straps were 10 feet too short. As the ultimate irony, Troy won a 20′ tow strap at the raffle two hours later.
Since our registration fee allowed unrestricted access to the park all weekend, we headed out for brief night run after the raffle. Those of you on this run may not have realized it, but this was Jim Davis' first night run ever! 🙂 Running The Steps at night added an extra level of excitement, since it was difficult to see where you were going until after you'd completely dropped off the edge of each step.
We wandered around more of the same trails on Sunday. One nasty little winding, downhill trench known as the Devil's Rectum provided some entertainment. The short wheelbase Jeeps in our group navigated the trench with nothing more than some impressive axle articulation, but the long wheelbase on Troy's F-250 gave him some trouble, but using John Frost as ballast helped some. The turns were tight enough that he couldn't make it through without crinkling the side of his box against a tree. We all learned that day that Troy's truck used to be blue at one point. 🙂
The wind chill was pretty cold that day (for September), so a warm lunch really hit the spot. This was my first attempt at manifold burritos. We really didn't do much driving that morning, so the burritos were only luke warm by noon. For future reference, the valve cover gets much warmer than the fuel rail. Wiring them down on top of the manifold itself would have required a contortionist.
A little later, we decided to check out a fun little trench which Troy and I had descended the night before. Going down, the trail afforded some nice suspension flex, but no real difficulty. Going up was another story. This trail was very similar to the one that had given me fits the previous evening. The ideal route made you straddle a V-shaped trench while making a tight left turn around a tree, then walking up the trench for another 30′ or so. Some sort of rear traction control device would have made the trail much easier. As had become commonplace that day, the spotters disappeared when my turn came, so I tried it alone. Just a few seconds after I started up the hill, my back right tire slipped into the trench. Having both left tires still high on the trench wall was more than my center of gravity could handle, and I fell sideways and somewhat backwards. I stood there pointing skyward for 10 minutes while the rest of our group inspected my undercarriage (now conveniently displayed), laughed at the wiper fluid spewing out the squirters on my hood, and eventually watched Tim Lange strap me back down on all fours (with Jim Davis spotting) so I could continue up the hill. I now know first hand that 45 degrees is more off-camber than I can handle. The ground was soft clay, so I didn't take any body damage from the incident. The Jim Davis clan were the only ones behind me. Jim was a bit nervous about rolling himself, and came close to doing so, but Tim's spotting got him through with nothing but some good photo posing.
I'll post some video frame grabs here as soon as I get around to it.
Do you like this site?
Help me keep it going by throwing a few pennies my direction.





Links on this page to Amazon are part of an affiliate program that helps keep Jedi.com operational.
Thank you for your support!