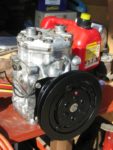 York compressors are easy to find because they were so common on older vehicles. From the mid-1970's to the mid-1980's, they were used on Ford, AMC (including Jeep), International Harvester, Oldsmobile, Volvo, and Porsche vehicles. I know Jeep used them from 1974 (maybe earlier) through 1986, primarily on their full-size Wagoneers, Cherokees, and J-trucks. Because of their age, many of these vehicles are finding their way to the crushers, so used Yorks may be harder to find as time goes on. However, rebuilt compressors are still available from many auto parts stores (at a hefty price), and new compressors are still available from T/CCI Manufacturing (the manufacturer of York compressors) and Brad Kilby's OnBoardAir.Com.
I've seen junk yard prices for old Yorks ranging from $12.50 to over $50. I had to pay $35 for my Ford model off a 1980 Fairmont, then shelled out another $20 to get AMC hose connectors and an idler pulley off an AMC Eagle at a different yard. If you can, have the yard personnel remove the compressor for you, since the placement of the mounting bolts makes removing it from the vehicle yourself a real PITA. When getting the hose connectors, try to grab a length of hose along with the weird connector. If you're cheap, this will make it easier to connect it to your own custom setup later.
If you want to run your York off a serpentine belt and don't want to shell out the bucks for Kilby's setup, look for a 1983 Mustang with the 5.0L V8. Rumor has it that was about the only factory application of a serpentine-belted York compressor.
Before you lay down your green, make sure the compressor works. To check whether it pumps air, plug the outlet hose with your thumb and then turn the inner portion of the clutch pulley several full revolutions. If, upon removing your thumb, you can feel the pressure difference, then it passed the test. Ideally, there should be no oil pumped out the hose, but a simple inline filter will fix that problem if it exists. The second test is whether the electric clutch works. The clutch is what locks the outer portion of the pulley where the belt runs to the inner portion of the pulley that's connected to the crankshaft. To check this, ground the compressor case on your vehicle. Then take the single wire that should be attached to the compressor and touch it to your positive battery terminal. If you don't have a car battery handy, you can hook the compressor up to the two terminals on a 12V cordless drill battery. You should hear a click as the clutch engages, and turning the outer portion of the pulley should then force the inner section to turn and pump air. When current is removed, the clutch should disengage, and the outer portion of the pulley should spin freely without moving the inner portion.
On 25 May 2001, I got a call from Jason Hill (jhill@plentyofparts.com) at Plenty of Parts, an industrial surplus-type place in Springfield, MO. He obtained about 250 full-size Yorks of the type you need for onboard air. He said at least half of them appear to work fine according to the above tests. It sounds like he'll let them go for cheaper than most junk yards, but you'll have to pay shipping or come pick them up. Anyway, if you're having trouble locating a cheap York, or if you want to buy a whole batch of them (group purchase for a club or something), you might give Jason a call at 417-864-4946 ext 225, or Jim at ext 234.
Do you like this site?
Help me keep it going by throwing a few pennies my direction.





Links on this page to Amazon are part of an affiliate program that helps keep Jedi.com operational.
Thank you for your support!