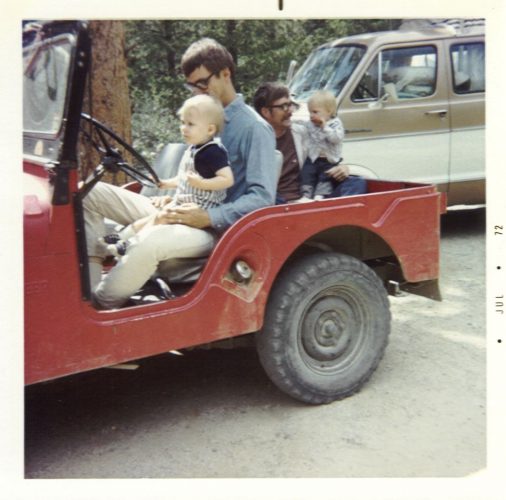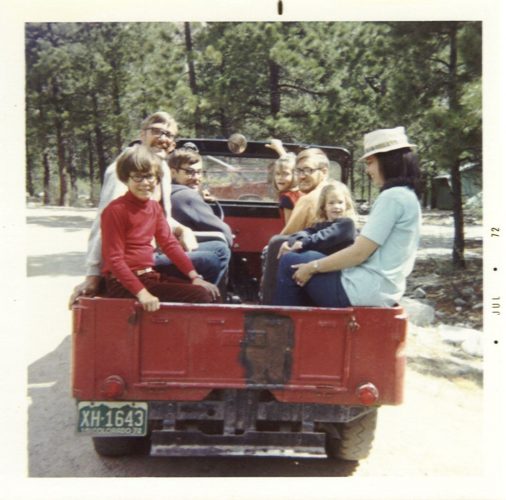 These photos were taken at a family gathering at Love Ranch in Chalk Creek Canyon near Salida, Colorado. The date on these prints was July 1972. I was only 17 months old at the time, so this was almost certainly my first Jeep ride. That's me sitting on my dad's lap in the driver seat (right where I belonged, of course). My uncle Bill and cousin Matt are sitting in back in the first photo. In the second photo, Matt seems to have disappeared, but my other uncle Rob, his wife Jan, and their three girls Jana, Amy, and Andrea are sitting mostly on the passenger side. If you look closely, I'm still on my dad's lap in the driver seat.
According to my elders, they rented this Jeep from nearby Deer Valley Ranch (where uncle Bill's family has a cabin) intending to do some sight seeing on low-maintenance roads. However, they couldn't get the front wheels to engage, so it ended up being just a convertible rather than a 4×4.
I'm not quite sure what year this Jeep is. I do know that it's a 1955-62 CJ-5 (the tailgate says WILLYS). If anybody can see any details in these photos that might help narrow down the year a bit further, please speak up. Anybody got access to 30-year-old vehicle registration data from Colorado? The license plate is clearly readable…
Do you like this site?
Help me keep it going by throwing a few pennies my direction.





Links on this page to Amazon are part of an affiliate program that helps keep Jedi.com operational.
Thank you for your support!