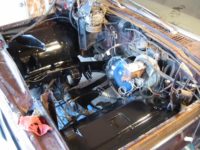 I took an extended break from working on the Wag in order to finish some school work and prepare for the birth of our second child. I then decided that, as slowly as I was making progress, I should probably get the engine bay ready first so that the engine didn't sit and get rusty in the months between getting it machined and getting it running. Removing all the crud from the engine bay wasn't fun. A gasket scraper works well to remove caked-on grease, and a wire wheel on a cordless drill works well to remove thinner, dry crud. Liberal use of engine degreaser, followed by brake cleaner (to remove the degreaser's residue), followed by a water rinse cleaned most everything off. All that took forever, it seemed. Applying the Metal Ready (an etching primer that helps the POR-15 adhere better) took less than an hour. Applying the POR-15 (a rust-preventing, rock-hard paint) to the frame and fender aprons took the remainder of that afternoon. Oh, what a difference a day can make! After much deliberation, I decided not to bother stripping and POR-15ing the firewall. I wanted to do it while the engine was out of the way, but I decided that removing all the stuff that goes through the firewall was just more work than I wanted right now. If I ever repaint the Wag red, I'll worry about having a brown firewall then.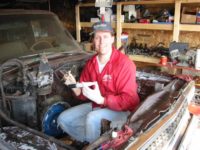 A friend suggested a nifty way of brushing on POR-15 without letting it dry, which I tried myself with great success. Rather than pouring small amounts into small containers and then racing to get it applied before it cures, get a large syringe (like those used on horses) that has a wide needle (or no needle at all) and will hold several ounces. Pop open the can of POR-15, suck up a few ounces, and immediately close the can to prevent drying. You can then squirt a little bit on your surface and brush it around without fear of the contents of your syringe drying in the moist air.
Contrary to the warning on the can, you can remove this stuff from your skin once it dries. It just requires a gritty hand cleaner (like orange Gojo) and the removal of your outer layer of skin. It even comes off your teeth if you scrape hard enough. On contact lenses, it's permanent, so be sure to wear eye protection.
| | Left | Right |
| --- | --- | --- |
| Cluttered | | |
| Uncluttered | | |
| Metal Ready | | |
| POR_15 | | |
Do you like this site?
Help me keep it going by throwing a few pennies my direction.





Links on this page to Amazon are part of an affiliate program that helps keep Jedi.com operational.
Thank you for your support!