Selected Portions from a 1995 TSM
At a friend's request, I made electronic copies of every page from my '95 YJ's factory service manual that gave information regarding the dash board instrument panel or gauge cluster. Since I like to share, I'm putting those pages out here for everybody's benefit.
Items referenced include dashboard removal, wiring diagrams, and troubleshooting techniques. Gauges include the speedometer, tachometer, 4WD indicator light, fuel (gas) gauge, temperature gauge, and oil pressure gauge, as well as the indicator light cluster above the steering column that contains the turn signals. Enjoy.
The images below link directly to a full-size image of that single page.  If you prefer, you may download this entire collection of pages in a single, 12MB PDF file.
Section 8E, Description and Troubleshooting
Section 8W, Wiring Diagrams
Chapter 23, Dashboard Disassembly
Observant people notice that the 4WD light occupies only the top half of its indicator gauge, and have asked whether there is supposed to be anything else in the bottom half.  The answer is no.  According to the '95 Wrangler Owner's Manual, the bottom half of that gauge is unused: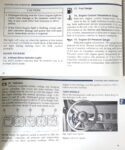 The manual pages were photographed with a digital camera in black and white at 1600×1200 pixels, ISO 400, no flash. In order to keep the resolution reasonable for a web browser and still make the mostly-line-drawn information on the pages look nice, I chose to save the files as 3-bit (8-value) greyscale GIF images rather than binary images by using the following string of utilities from the PBM Toolkit:
jpegtopnm photo.jpg | ppmtopgm | pnmnorm -wpercent 70 | pnmdepth 7 | ppmtogif > web/photo.gif

The full size images are each 1600×1200 pixels and about 70 to 195 KB. If your browser window isn't larger than that, remember to expand the image to full resolution so you can see the maximum amount of detail. In Firefox, you do this by clicking in the image with the magnifying glass cursor.