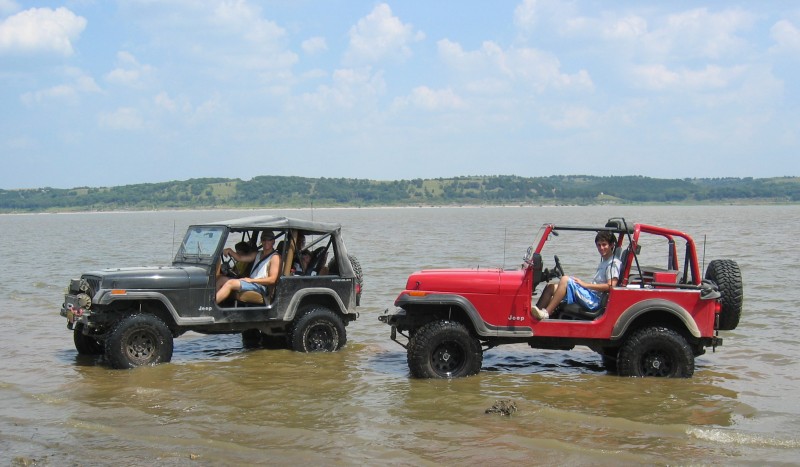 After spending the summer working on Capitol Hill, Justin Kalemkiarian wanted to unwind with a wheeling trip before he headed off to school for the fall. He & his dad (Brent) drove Ol' Red, while I (Obi-Wan) brought my family (Stacy, Micah, and Noelle) in my black YJ.
When you're travelling with young kids, having a cushy truck like our 2001 Tahoe to flat tow the YJ makes the drive down and back much more enjoyable. This is especially true since the 20-yr-old CJ7 soft top that I've got on my YJ is deafeningly loud at highway speeds. I'm glad I had that top, as its shade provided a welcome respite from the 95-degree heat for my kids.
While we were unloading in the staging area, a 2005 Wrangler Rubicon Unlimited pulled up and asked me where he should go to stay out of trouble. Since the driver (Brian Davidson) was alone with his two young girls, I suggested that he join us for the morning so we could show him around and give him a few pointers. It turns out this was Brian's second wheeling trip and his first at Tuttle since he bought his TJ three months prior. He seemed to enjoy himself, but had to head home right after lunch.
This was just a typical day of puttering around. Both Red and my YJ are fairly capable, so we played a bit on several ledges and some other moderate trails. I was surprised to see how badly dug out the big ledges had become in the year since I'd last been to Tuttle. There are now very few spots that would be passable with even 35″ tires, I'd wager.
We ran into one guy from Missouri with his family in an orange early Bronco who had just recently returned from the "Ultimate Adventure" trip sponsored by Petersen's 4-Wheel & Off-Road magazine. I didn't catch his name, but it was a pretty sharp looking EB with a 4-link rear suspension. Be sure to look for it in upcoming issues of the magazine.
There was no mechanical breakage and nobody got stuck, so it was a pretty uneventful trip from that perspective. Until I get the photos sorted out, you can view them here.
Do you like this site?
Help me keep it going by throwing a few pennies my direction.





Links on this page to Amazon are part of an affiliate program that helps keep Jedi.com operational.
Thank you for your support!