1977 Jeep Wagoneer (no longer) For Sale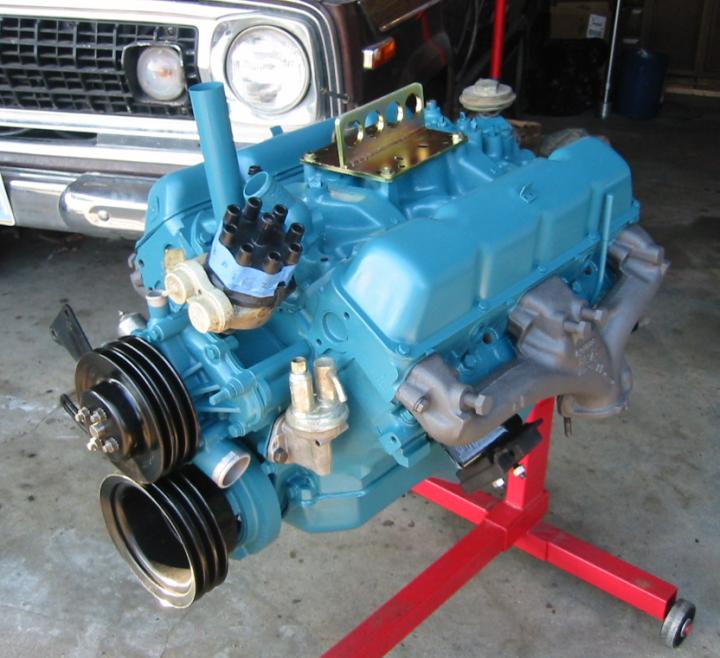 My Wagoneer has finally found a new home in Chicago with Bobby Cardoso.
I've left this page online for posterity.
Well, I think it's finally time for me to get out of the FSJ hobby, at least for a while. This means unloading my '77 Wag as well as a boat load of loose spare parts. The parts trucks found new homes last summer. I bought the '77 in 1999 to use as a tow rig for my '95 Wrangler and family cruiser. It's been a fun project, but I've decided I already have too many projects, and something has to go. Since the Wag has basically been a lawn ornament for the last couple years, it's getting the axe. What I really ought to have instead is a newer 3/4-ton pickup, but that's another story. You can read all about my Wag here, but I've included a condensed status below. Pictures follow at the bottom of this page.
1977 Jeep Wagoneer, VIN J7A15MZ1C101280
145,000 miles (first digit is my best guess; I've only put 8K on it myself)
Chocolate brown exterior, tan interior
Original 401 V8, rebuilt by me in 2002:

Bored .020" over, stock compression ratio, Badger pistons
Crane H-260-2 cam, lifters, and valve springs
Cloyes double roller timing set
New flex plate
Balanced rotating assembly
Ported heads
FlowKooler water pump
195-degree thermostat (new in 2003)
MSD 6T ignition module, Motorcraft distributor from '78 Wag
Moroso 8mm plug wires
Edelbrock Performer intake manifold (EGR version)
Holley 0-1850-4 carb (600 cfm, 4bbl, manual choke) rebuilt with #64 main jets
K&N air filter
No AIR system
Vacuum lines correctly routed per 49-state factory spec
19" manifold vacuum at idle
Has only run Mobil 1 synthetic oil and K&N oil filters since the rebuild. Oil pressure: 55 psi cold, 40 psi hot highway, 25 psi hot idle
Compression ranges from 130 to 137 psi in all cylinders.
I've gotten as much as 12 mpg with it on the highway. Around town, it's been getting closer to 9.5 mpg lately. That's not all that far below our 2001 Tahoe, which gets about 11 mpg in town.

TH400 transmission professionally rebuilt in 2000 by H&H Transmissions of Lincoln, NE. New torque converter at that time. I've put about 7K on the tranny since then.
BW 13-39 Quadra-Trac transfer case with Mile Marker part time conversion and 16% overdrive, Warn front locking hubs (on it when I got it)
Engine bay interior and front portion of frame coated with POR-15 in 2002
3-core radiator new in 2002
24K-lb B&M tranny fluid cooler new in 2002
Heater core was flushed in 2002; duct work also cleaned out and is now protected from debris with a screen under the cowl vent.
All rubber fuel lines (including filler hoses) are new in last few years
2.5" exhaust system (IronTuff muffler, no cat) new in 1999
Optima red-top battery new in 2002 and still works well
Alternator is obviously fairly new, but it was on the Jeep when I got it
Starter (lifetime warranty), solenoid, and cables new in 2000
Ammeter in dash bypassed in 2002
Mechanical oil pressure gauge in engine bay plus electrical gauge in dash
Front & rear Dana 44 axles with 3.54 gears and open diffs (fresh gear oil in 2002), flat-top knuckles on both sides
Front wheel bearings new in last 6K miles
Front left ball joints new in 2003 (6K miles)
Steering shaft U-joint new in 2002 (6K miles)
2-3" suspension lift (rear blocks, and front add-a-leaf?) (on it when I got it)
Rancho RSX shocks new in 1999
Trailmaster coil-over steering stabilizer new in 2002 (this might get moved to my YJ before selling the Wag)
235/75R15 Firestone Wilderness AT tires new in 2002 (7K miles) (could easily clear 30x9.50's)
15x7 mag wheels
No stereo, but dash has been cut to fit a newer DIN head unit. Infinity 552i front speakers, Monster 16awg speaker wire new in 2002. Since there's no radio, the speakers might get pulled before selling the Wag unless the buyer wants to pay extra for them.
Cardboard glove box insert new in 2003
Rubber window wipes on all five door windows new in 2002
A/C ran cold and is still charged, but an electrical problem prevents it from working currently. I no longer recall the exact problem.
A/C compressor clutch/pulley replaced with one from '87 GW in 2003
Electric rear window works (rewired in 2002)
Tan cloth bucket seats
Chrome trim is straight and rust-free, except minor dents on grille surround
Frame is straight and rust-free
Notebook outlining all repairs and service work I've done to the truck, as well as receipts for almost everything
'77 Jeep TSM and 1974-80 Parts Manual
A pair of age-appropriate (bicentennial) license plates that can be used to license the truck as a historic vehicle, meaning you only have to license it one time and it's good forever. Certain DMV restrictions apply. That's how I've currently got it licensed, but your situation may vary.
The vehicle dimensions are approximately 184" (15'4") long, 76" (6'4") wide, and 72" (6'0") tall at the roof rack. The radio antenna adds another 4".
I also have a bunch of loose spare parts which I've highlighted below:
Spare cast iron 4bbl spread bore intake manifold. Needs one thermostat bolt hole filled & re-drilled.
Spare, unmolested BW1339 QT from a '79 Wag with 36K original miles.
Brand new replacement body panels (came with the QT from the '79 Wag). Includes all rockers and (I think) all fenders & quarter panels. This is more than enough to replace all the rusted or dented body panels on the '77 Wag.
Various small engine and interior parts for the '77 Wag that were replaced, but are still in usable condition.
Of course there are some bad points to every 35-yr-old vehicle.
Rocker panels are almost completely gone. Left rear quarter panel is wrinkled and somewhat rusty. Right quarter panel is straight with some rust. Again, I've got all the necessary new body panels to fix this. Some minor hail-type dents on tailgate and chrome grille surround.
Most of the exterior woodgrain decal is badly cracked.
Minor oil leak in lower front right portion of engine. Maybe it's the oil pump cover or maybe it's something higher up. No other leaks on the vehicle, though.
Door-to-body weather seals need replacing.
The carpet is in pretty bad shape. I had intended to Rhino line the carpeted portion of the interior someday.
Although I haven't removed much of the carpet, I can see that there's some rust on the front right side floor pan.
Cruise control doesn't work. The driveshaft sensor is missing, but there may be more than that.
Small rip in vinyl on the back of the rear seat.
Headliner is gone (nothing but the cardboard backing), but a spare from an '87 GW parts truck is in excellent shape.
Gas gauge only registers 3/4 tank when full, but the empty mark is accurate.
I've been unable to fix a chronic exhaust leak. I suspect that the passenger side manifold doesn't mate correctly to the down pipe, but I can't be sure.
Below are some detailed shots of my 1977 Jeep Wagoneer taken on 15 January 2012. These photos are intended to give an accurate representation of the Jeep, both good and bad. I do have a full set of NOS replacement body panels, as well as a new headliner in storage awaiting a new owner. Clicking the thumbnail will show a 1200x800 image. Full size (18MP) images are available upon request.
Two videos are shown here illustrating how easily the engine starts, even in mid-January. Listen to that 401 purr! The first video illustrates a cold start after sitting overnight. The second video illustrates a warm start after it had run for 30 seconds and then been turned off for a few minutes.
Exterior
Interior
Engine
All this is located in Lincoln, Nebraska, 68506. You can email me at obiwan@jedi.com or phone Ben at 402-432-5334. Email is preferred. I paid $1900 for this truck in 1999 in much worse condition than it's in now. I've done gobs of work to improve the mechanical condition since then, and have receipts and notes to prove it. I figure I've got about $7000 invested in the '77 Wag, including the initial $1900. I guess I'd like to get $3500 for it. You won't find a smoother FSJ drivetrain for sale in Nebraska!
Back to Obi-Wan's Wagoneer page
---
last updated 23 Nov 2013 Obi-Wan (obiwan@jedi.com)
Links on this page to Amazon are part of an affiliate program that helps keep Jedi.com operational. Thank you for your support!