On Sunday, 12 Oct 97, I joined 128 other Jeeps for the 8th annual Briggs Jeep Jamboree (not affiliated with the Chrysler jamborees). Unfortunately, it poured rain from 10pm Saturday til 4pm Sunday, so the ORV area was soup.
We started the day with registration an breakfast at 9:30am at the Briggs dealership. Around 10:30, we headed out to the ORV area in one long procession. That must have been quite a site for the rest of the motorists along our path. By the time we got to the parking area of the ORV, where we all stopped to air down and divide into groups based on vehicle capabilities, it already looked like we'd spend a full day mudding. Too bad this photo's too grainy to show all the mud.
I was near the end of my group. By the time I left the parking area, the group leader (Dale) was already leading most of his flock back. He said they'd already gotten three Jeeps stuck on the first hill, so he was going to find an easier trail. In dry conditions, that would have been a trivial trail, but mud ups the difficulty rating four or five notches. The easy way down into the valley was a popular route, so we waited our turn for a while.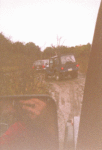 Once in the low land, we followed a number of trails that had very few inclined areas. One off-camber turn forced half of our group down into a gully beside the primary path. Fortunately, there was another trail that ran along the bottom of the ditch that allowed us to meet up with the rest of our group. When we met again, we all stopped and waited while Brian "Red Rocker" Baker scouted the path ahead. It was muddy with some 8″ or more deep mud puddles, but everybody got through OK.
Joining us at the jamboree that day were four M151 Mutts. I'm not sure why none of my photos of them turned out well. The rain didn't distort my vision nearly as badly as it distorted my photos (fortunately).
Upon arriving back at the dealership shortly after 1pm, we ate lunch and hung around looking at other Jeeps and talking to their owners. A number of prizes were given out for "best built Jeep," "oldest original Jeep," etc., and lots of random door prizes were also distributed. Two of the prize winners were a CJ-8 with a CJ-7 hardtop grafted on and a 1950 FC-150.
Overall, I had a good time. With good weather, the event would have been a real blast. If I'm still in the area next October, I'll definitely be back for the 9th annual jamboree.
A couple months after the event, I received the following letter from another attendee who had run across this web page. She was kind enough to let me share it with the rest of you so we can all remember the fun of our first Jeep experience.
From: "Leah M. Haag"
pitsmom@hit.net


Just read your home page, and I must say–what a kick! The description of the Jamboree at Brigg's Jeep-Eagle was hilarious partly because we were at the same Jamboree. My daughter had bought a new Wrangler that was delivered in June 97 from Briggs, and she invited my husband and I along for the ride. She drove the Wrangler (which had about three thousand miles on it by that time) and I navigated. It sure was more mud than I've ever encountered. We made it all the way to the end, but turning into the ORV area resulted in a slight miscalculation. We ended up in the ORV area on a really steep slope complete with what looked like boulders to me, mud, etc. etc. We finally got back out and exiting the ORV area but that was when we left by the main entrance which was one HUGE mud hole. Rebecca, my daughter (who's a student at K-State) took one look and said, "I can't drive through THAT." But she was wrong. She did drive through that hole with the help of the 4 wheel drive which had previously never been engaged. We had a ball, but she was still washing mud off the Jeep weeks later. Her Dad who does her vehicle maintenance found dried mud packed inside the wheels when he rotated the wheels at least a month later. Actually, we had so much fun that I had to have a Jeep of my own so I ordered a chili pepper red Wrangler one from Briggs two weeks ago, and it's supposed to be in the end of February. I'm 49 years old, and if I'm ever going to be able to have a Wrangler, the time is never going to get any better than right now. I hope I enjoy mine as much as you do yours. Best luck, pitsmom@hit.net

Do you like this site?
Help me keep it going by throwing a few pennies my direction.





Links on this page to Amazon are part of an affiliate program that helps keep Jedi.com operational.
Thank you for your support!