The December Flatlanders meeting was my first as an actual member. The meeting started out with a little Christmas party. Everyone brought finger food and we sat around eating and talking for the first 45 minutes or so. We took nominations for officer elections. Voting will be done in January, and new officers will take office in February. It was also suggested by another newer member (John Miller) that we put together a web page to help advertise the club. I agreed that it was a good idea, if a little late. 😉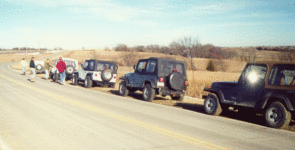 Although a couple dozen people showed up for the meeting, only seven vehicles went to the ORV park. That turned out to be a pretty good number, since we didn't have to wait a long time for anyone (except Nick) to make it through obstacles, but there were still enough people to mill around and get to know fellow club members. It had snowed quite a bit the previous two weeks, and had been cold enough that most of the snow was still there. It finally warmed up the day before out meeting, so most of the trails were a combination of wet snow and mud. It wasn't complete slop, but everything was just slippery enough to make it interesting.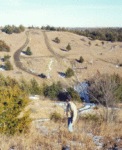 Since my stock tires theoretically made me the most incapable vehicle of the group, they put me near the middle of the pack. The first big obstacle we tried was the little gully that ate several Jeeps during the Briggs Jeep Jamboree in October. The first time I headed up the other side, I didn't have enough wheel speed. I had to back down 20 feet and try again in a higher gear. Problem solved. Surprisingly, that was the only problem I had all day.
The mud made things a bit more difficult, but didn't pose any serious problems for anyone until Nick Falcetto tried to go up one of the steepest hills of the day. Oddly enough, taking this trail was Nick's suggestion. The obstacle was a small dip followed by a 60 degree left turn up a steep, muddy hill with trees close on each side. Near the top was a 90 degree right turn, followed closely by a 90 degree left turn just as the hill leveled out. One tree in particular came very close to taking out several side mirrors. The trick to a successful climb seemed to be having good momentum without excessive bounce or wheel spin. Nick apparently went either too fast or too slow, lost traction, and slid far enough sideways that a tree blocked his rearward decent. That seems to be a recurring theme when Nick and I go wheeling (see the September '97 trip report).
Due to the poor traction and winding trail, John Miller had to winch Nick up from the side with a snatch block. After winching from two separate places, Nick finally got enough traction to move under his own power…until he hit a large rock in the trail, lost traction, and came to another dead stop. This time, we opted to link two snatch straps together and have Doug Knox tug him to the top of the trail. Nick and his dad had brought their new video camera, so of course we got the whole incident on tape. Since nobody else broke anything, this earned Nick the final Hard Luck Trophy for 1997.
After killing time with Nick, we decided it was time to head for home. As we attempted to climb a small ledge on the way out, we realized that muddy, packed tires made that ledge seem much larger than usual. Three Jeeps, led by John's super-Jeep, made it up, while the rest of us took the long way around. After a little more playing on some more ledges and the presentation of the Hard Luck Trophy, we hit the pavement.
Note how muddy that field is behind John and Nick. This area is normally a large (200×200′) grassy meadow, but some idiots, apparently riding some quad runners, had really torn it up recently and turned it into quite a mud pit. This is the kind of behavior that will make the Army Corps of Engineers, who manage the ORV park, close the area off to the public. Please, people, Tread Lightly! If you don't, none of us will have anything but pavement to tread on before long.
I had just finished installing my new York-based onboard air compressor the day before, and was eager to see how quickly it would air up my tires. Apparently there was still some problem, because it took for-bloody-ever to add 10 psi to one tire. I ended up using the air hose at the gas station to finish the job. Upon further inspection, it turned out that the double-ended truck air chuck I was using simply wasn't opening up enough to let much air through. Replacing it with a normal, spherical air chuck solved the problem, at least in the driveway. We'll see just how well it works in the field come January.
Do you like this site?
Help me keep it going by throwing a few pennies my direction.





Links on this page to Amazon are part of an affiliate program that helps keep Jedi.com operational.
Thank you for your support!