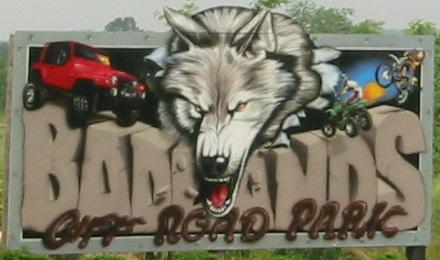 A handful of us from the JeepOffRoad (JPOR) Mailing List finally decided that we needed to get together and meet each other, so we planned a trip to the Badlands. It turned out to be a longer drive and not quite as central a location as we initially expected, but it was still a blast.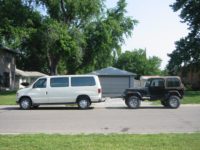 Since my 5-month-old daughter isn't ready for that level of wheeling yet, and since we have friends in northern Indiana (La Porte), I took my whole family out to La Porte while flat towing my YJ behind my dad's E-350, then left the family there while I drove the YJ down to Attica for the weekend. It's about a 12 hour drive (600 miles) from Lincoln to La Porte with a family of small kids (Attica is similar), then 2.5 hours from La Porte down to Attica. Lots of driving in four days! Of course, being pulled over on the interstate in Illinois for a drug bust by a sheriff deputy trainee added a little bit to our time, too. His excuse was that we forgot to use our turn signal when leaving a gas station. Newbie cops are fun. If you ask them lots of unrelated questions, they get flustered and can't remember what they're supposed to be asking you. He didn't find our stash, so he sent us on our way. 😉
I pulled into Attica around 9:30am Saturday and touched base with John Nutter on the CB. He and his group had arrived the night before and were already playing around in the quarry at the Badlands. I went to check into the Summers Carroll Campground about 9 miles northwest of town. It's a very clean, quiet, cheap campground. I located John's camp and setup camp across the road from him. I finally made it back to the Badlands ORV park, checked in, and hit the trail to find the rest of the JPOR group around 11am.
The rest of the group (about 8 vehicles) were on the orange (medium) trail that begins just inside the park entrance. That trail is very reminiscent of the low lands at Tuttle Creek or Timber Ridge, with lots of narrow, twisty trails with mud pits, short, steep inclines, and off-camber bits. I got my CB antenna ripped off by a low hanging tree not 3 minutes into the trail, before I'd met up with the group. I also managed to get mud to wash up over nearly my entire hood while crossing one pit. The trails are fairly well marked with signs on trees, so by following the signs, some tire tracks, and directions via CB (while I still had an antenna), I was able to catch up with the group in about 10 minutes. It would have been sooner, but I had to stop at one point and wait for a small turtle to wander across the trail. I felt like the rally racer in that video game commercial who pulls over to pick up a bunny off the road and set it free in the woods.
When I found them, Jerry (red XJ) was crossed up trying to traverse a muddy rut and John Nutter (yellow CJ) had to pull him across. There were a number of times when Jerry's open diffs and lower underbelly gave him some traction problems, but good driving skills and Goodyear MTR tires sure helped. Still, I was very glad that I had gotten my Trac-Lok limited slip rear diff installed before this trip. It made a world of difference down there.
After wandering around for a few hours in similar terrain that morning, we headed back to the parking lot for lunch. There are two enormous, gravel parking lots at the Badlands, and the lower one has a small building that sells burgers, drinks, and the like around lunch time.
That afternoon, we headed out to the pink (hard) trail. Unlike the orange trail, which is located at the northeast end of the park by the entrance, the pink trail is located at the far south end of the park, past the sand dunes and near the quarry. The pink trail starts out with some off-camber rocky areas (where a tree claimed my radio antenna) and then continues through the woods for a while before dumping out into the quarry. The quarry is a large, open basin surrounded by trails leading up the rock walls. Greg managed to flop his CJ on its side while testing his off-camber tolerance in a small gully. After a few jokes, we winched him upright.
Our group dispersed and played on the rocks for a while before congregating at Purgatory ("somewhere between heaven and hell"), the killer rock trail at the Badlands. It's a very technical, narrow trail with large rocks and only one "correct" line. A bunch of broken windshield glass on the downhill side of the trail was evidence of what might happen if you're not careful. We spent a couple hours there watching many of our bunch try there hand. With Tracey Michaels spotting, John Nutter was the first of our group to make it through without sliding sideways off a rock and using a winch to drag the Jeep along on its axle. Jim Barlow provided the most significant breakage of the trip when his steering knuckle U-joint spit off its end cap and puked its guts onto the trail. He got out with a winch and a lot of popping noises.
The park closes its gates at 6pm, so we headed back to the campground for a long evening of relaxing, shooting the breeze, and watching Jim remove the broken remnants of his axle so he could flat tow his Jeep home the next day. Dora-ble (the explorer) and her dogs came down from Chicago that night to hang out with us for the evening and pick up Tracey.
Only four of us stuck around to wheel on Sunday: John, Janet, and Sierra Nutter in their yellow CJ, not-so-Dentless Dave Stauffer in his teal TJ, Jerry in his red XJ, and me (Ben "Obi-Wan" Hollingsworth) in my black YJ. With such a small group, we were able to move pretty quickly and covered a lot of area. The day started by John's rear fuel pump puking at a gas station in town. He replaced it with a spare he'd brought, and we headed out on the green (easy) trail for the morning. The green trail heads south from the parking lots and contains many steep up-and-down hills roughly 20 feet tall and very sharp break-overs at the top. Jerry's XJ (our leader at the time) scraped bottom a few times, but he never had trouble cresting them. These hills are connected with relatively uneventful wide, sandy, dirt trails.
While passing by an overlook for another section of Purgatory, we stopped for a while to watch two well-setup rigs play. The first was a Sammy-based creation that handled pretty much everything without much difficulty. The second was a blue TLC that had a little more trouble.
We eventually found our way onto harder trails through the woods and dropped down into a stream bed for a while. The drop in went into a semi-deep hole, which hung up Jerry for a while. We pulled him back up so he could get a run at it, and then he let John take the lead for a while. The stream got larger and rockier as it went on, and it eventually took us under an old concrete bridge and through the infamous culvert. The outlet of this culvert drops off a little into a pool, but nothing as deep as I'd seen in other photos.
Shortly thereafter, we left the creek and started wandering through some tight, wooded trails in the far south end of the park. We happened upon a pair of Samurais that were about to run through one of the larger mud holes that littered these trails. One of them ran along the left side, but his right wheels hit a hole and sank, drenching his (fortunately empty) passenger seat and sucking some water into his engine. He got pulled out and emptied his engine in short order. Not five minutes later, John performed a similar feat in a different hole. He managed to keep his engine above water, but his wife's seat sank, giving her what Dave dubbed "swamp butt" for the rest of the day. I pulled him out with little effort, and after a little lost wandering, we headed back to the parking area for lunch.
Having had our fill of mud, we spent the afternoon playing in the quarry. For much of the afternoon, John and Dave (the big dogs in our group) played on the large rocks while Jerry and I spotted and heckled. We all went up a decent little ledge down by a lake where Jerry stopped to pose for his directory shot before leaving a thick layer of rubber on the ledge in what was eventually a successful attack.
I tried to follow John's route (John has dual lockers, while I have only a rear LSD) and have a mangled rocker panel to show for it. That was the only time all weekend when my Trac-Lok failed me. I eventually moved over a foot and made short work of Jerry's route (no doubt due to the increased traction from the layer of rubber left behind by his tires).
With closing time approaching, we headed back to the camp and then out for pizza before I bid the Minnesota group farewell and headed back to La Porte to see my family. The drive home with the van pulling the YJ was equally smooth, and we managed to avoid any "Imperial entanglements" this time.
Damage taken: I dented my left rocker panel, mangled the drip rail on the right side of my windshield frame, tore off both my radio ($25) and CB antennas ($30), ripped my roll bar pad in a couple places, broke off the left side "door open" switch ($13), mildly dented my oil pan, and broke the knob off one of my RS9000 rear shocks. The loss of my radio antenna for a week was probably the most painful of the bunch.
Do you like this site?
Help me keep it going by throwing a few pennies my direction.





Links on this page to Amazon are part of an affiliate program that helps keep Jedi.com operational.
Thank you for your support!